CARMEN TREICHL . KAMERAFRAU
Seit ihrer Kindheit ist Carmen mit dem fotografierten Bild verbunden – besonders dem Bild in Bewegung. Sie verliebte sich in das Kino und in die Vielzahl der Möglichkeiten die das cineastische Vokabular zur Verfügung hat um Emotionen zu transportieren. Für jedes Projekt in dem sie die Kamera führt versucht sie eine eigenständige Formsprache, einen individuellen "Dialekt" zu finden.
Die Bildgestaltung ist für Carmen ein Zusammenspiel von Framing, Licht/Schatten, Tempo und Timing in Bewegung und Stillstand in enger Verbindung mit dem Inhalt des Abgebildeten. Durch das bewegte Bild sollte in ihrer Arbeit somit eine weitere Ebene der Erzählung hinzugefügt werden, die Erzählung der Emotion, dem Subtext der Geschichte.
Nach ihrem Diplom als Graphic Designerin, einer Ausbildung zur Fotografin und ihrem Abschluss als Magister an der FH für Multi Media Art zog es die gebürtige Österreicherin 2009 nach Berlin, wo sie bis 2017 an der Deutschen Film- und Fernsehakademie Kamera studierte. In den letzten 10 Jahren hat Carmen über 60 Kurz-, Mittellangfilme und 5 Featurefilme gedreht. Die von ihr fotografierten Filme wurden auf zahlreichen Festivals gezeigt.
Um ihr Studium zu finanzieren dreht sie vorwiegend für Fernsehproduktionen, Dokumentarfilme, Reportagen, Werbung, Musikvideos und Corporate Produktionen rund um den Globus.  
Carmen Treichl, 1985 in Tirol/Österreich geboren – lebt in Tirol und Berlin. 
---
CARMEN TREICHL . CINEMATOGRAPHER
Since her childhood, Carmen has been attached to the picture – still and specially in motion. She fell in love with cinema and the range of possibilities the cinematic vocabulary offers to communicate emotions. Her aim is to always find an own formalistic 'dialect' for each project. For her, cinematography is a mix of framing, light, tempo and timing in motion or stillness in tight relation to the narrated story.
After her diploma in graphic design and her master's degree in Multi Media Art, she moved to Berlin to study cinematography at the German Film and Television Academy Berlin (DFFB). Her movies were shown on several international festivals like Berlinale, South by Southwest, NewDirectors NewFilms. Over the last ten years, she has shot more than 60 short, middle-length and feature-length films. To finance her studies, she worked for television documentaries, commercials, music videos and image corporate productions all around the globe.
UPCOMING PROJECTS
STILLE POST (in PreProduktion – Dreh Winter 2019)
Regie: Florian Hoffmann  | Kamera: Carmen Treichl
Produktion: Chromosom Film | dffb
Spielfilm | 90 min | ALEXA | dffb & ZDF & RBB | 2019 | GER
Mama, Malle und Ich  (AT)
(Stoffentwicklung – Dreh Frühjahr 2020)
Regie: Janin Halisch  | Kamera: Carmen Treichl
Produktion: Klara Gerst | dffb
Spielfilm | 90 min | ALEXA | dffb & RBB | 2020 | SPAIN
ABITANTI (AT)
(Stoffentwicklung – Dreh 2020-21)
Regie: Kerstin Neuwirth | Kamera: Carmen Treichl
Produktion: TBA
Spielfilm |100 min |
IN POSTPRODUKTION 
NOTES OF BERLIN (Mastering März 2019)
Regie: Marie Josephin Schneider | Kamera: Carmen Treichl
Produktion: Nico Kupferberg, Clemens Köstlin, Marie Josephin Schneider, dffb
Spielfilm | 100 min | ALEXA | dffb & RBB | 2019 | GER
BREAD (in PostProduktion)
Regie: Ditmitar Kutmanov | Kamera: Carmen Treichl
Produktion: Screening Emotions Filmproduktion Bulgarien
Spielfilm | ca.90 min | 2K | 2019 | Bulgarien
VOGEL ALS PROPHET (in PostProduktion)
Regie: Giorgi Korkashvili | Kamera: Carmen Treichl
Produktion: France Orsenne, Gregor Sauter | dffb
Spielfilm | 81 min | ALEXA | dffb | 2019 | GER
ANFANG  (in Postproduktion)
Regie: Giorgi Korkashvili | Kamera: Carmen Treichl
Produktion: Das Rudel  | dffb
Spielfilm | 120 min | ALEXA | dffb | 2020 | GER
FILMOGRAPHIE . Langfilme & Mittellangfilme
NIXEN
Regie: Katinka Narjes | Kamera: Carmen Treichl
Produktion: Sabine Schmidt | dffb
Spielfilm | 78 min | ALEXA | dffb | 2018 | GER
Weltpremiere Filmfest München 2018
International Premiere PÖFF |
Tallinn Black Nights Film Festival 2018
Exground filmfest 31
Max Ophüls Preis Watch List 
EGAL GIBT ES NICHT
Regie: Florian Hoffmann  | Kamera: Carmen Treichl
Produktion: Tara Biere Filmproduktion | dffb
Dokumentarfilm | 45 min | HD | dffb & ZDF | 2017 | GER
Düesburger Filmwochen 2017
Achtung Berlin Filmfestival 2018
3 Sat Ausstrahlung & Mediathek
UNWIDERBRINGLICH ENTFLIEHT DIE ZEIT
Regie: Carmen Treichl  | Kamera: Carmen Treichl
Produktion: Carmen Treichl & France Orsenne | dffb
Dokumentarfilm | 84 min | HD | 2008-2018 | AUT
LUI
Regie: Janin Halisch | Kamera: Carmen Treichl
Produktion: Klara Gerst | dffb
Spielfilm | 17 min | ALEXA | dffb  | 2017 | GER
Linz International Short Film Festival 2018
Hofer Filmtage 2018
DIE BERGFRAU
Regie: Kerstin Neuwirth | Kamera: Carmen Treichl
Produktion: Kerstin Neuwirth, Christoph Stendebach | khm
Experimentalfilm | 20 min | S16 mm | 2013 | AUT
Premiere "60. Internationalen Kurzfilmtage Oberhausen"
NRW Competition 2014
Prädikat "Besonders Wertvoll"
Aesthetica Short Film Festival York 2014
Kurzfilmfestival Köln UNLIMITED 2014
20. Internationalen Film Festival Kalkutta, India 2014
Förderpreis des Landes NRW
BEST FILM ClujShorts 2015 Official Selection, Transilvania
Underground Filmfest Chicago USA
Festival de Cine de Lima 2015 – Competition
Split Film Festival – International Festival of New Film
15. Flensburger Kurzfilmtage 2015
BERLIN RECALL
Regie: Nicolas Dussolier | Kamera: Carmen Treichl
Kurzfilm | 20 min | S16mm | dffb & RBB | 2014 | GER
8848
Regie: Giorgi Korkashvili | Kamera: Carmen Treichl
Produktion: France Orsenne, Gregor Sauter | dffb
Spielfilm | 30 min | ALEXA | dffb & RBB | 2013 | GER
Premiere "30. Interfilm Festival Berlin" 2014
Film&TV Kameramann Artikel & 10 Fernsehausstrahlungen
10 Fernsehausstrahlungen RBB & ARD
IHR UND EURE WELT
Regie: Janin Halisch | Kamera: Carmen Treichl
Produktion: France Orsenne | dffb
Spielfilm | 24 min | ALEXA | dffb & RBB | 2013 | GER
Premiere "48. Hofer Filmtage"
11. achtung berlin Festival
50 Jahre DFFB Festival
6 Fernsehausstrahlungen RBB
CHIRALIA
Regie: Santiago Gil | Kamera: Carmen Treichl
Produktion: France Orsenne | dffb
Spielflm | 26 min | RedMX | 2013 | dffb
Internatkionale Premiere "Festival Premiers Plans d'Angers"
Deutschland Premiere "63. Berlinale – Perspektive Deutsches Kino
– Special Mention der Jury Perspektive Deutsches Kino
South by South West, Short Film Competition, Austin Texas 2013
New Directors New Films 2013, MOMA – New York USA
Southside Film Festival 2013, Bethlehem, Pennsylvania
43. IFF Molodist 2013, Kiew, Ukraine – Int. student Competition
32nd Uppsala International Short Film Festival 2013, Schweden
– Int. Competition
19th Cucalorus Film Festival Wilmington 2013, North Carolina
Indian Film Festival – BEST SHORT INDIA 2013
San Marino International Film Festival 2014
LOVE.YESTERDAY
Regie& Produktion: Joya Thome | Kamera: Carmen Treichl
Spielflm | 20 min | S16 mm | 2012 | GER
Premiere "48. Hofer Filmtage" 2014
Filmz – Festival des deutschen Kinos Mainz
11. achtung berlin Festival
HERZ DAME
Regie: Markus Lubje | Kamera: Carmen Treichl
Spielflm | 30 min | ALEXA | 2011 | fh SBG | AUT
Studentenfilmfest Wien
IVY Filmfest Internationaler Wettbewerb, US
SKINNY LOVE
Regie: Janin Halisch | Kamera: Carmen Treichl
Spielflm | 23 min | RedMX | 2011 | dffb | GER
Premiere "46. Hofer Filmtage 2012"
Achtung Berlin Festival Kurzfilmwettbewerb
10th International College Film Festival KINOKI
DÜRRE
Regie: Giorgi Korkashvili | Kamera: Carmen Treichl
Spielflm | 86 min | HD | 2011 | dffb | GER
FILMOGRAPHIE . Commerziell
STREETPHiLOSOPHY . seit der 2. Staffel
Produktion: Weltrecorder, Simon Hufeinsen & Dominic Bertsch
Regie: Michael Schmidt, Anni Hoffmann, Thorsten Glotzmann, ua.
Kamera: Immanuel Hick, Benedikt Sicheneder  & Carmen Treichl ua.
ARTE : 5 Staffeln zu 10 Folgen á 26 min | HD | 2016 & 2018

ARCHIV DER FLUCHT
Produktion: Haus der Kulturen der Welt, Nadja Hermann & Pedram Sarhangi
Kamera: Thomas Keller, Katharina Diessener, Carmen Treichl u.a.
Dokumentation | Archiv von 50 Fluchtgeschichten | HD | 2018-2019 | GER
MAX STÖCKL vs. STREIF . Downhill
Regie: Emanuel Förster | Kamera: Carmen Treichl ua.
Produktion: Wunschkind Medienproduktion
Action Sport Clip | 2 min | HD | 2018 | AUT
"DER FREISCHÜTZ" in der Mailänder SCALA 
Regie: Alexander Saran | Kamera: Namche Okon, Carmen Treichl
Produktion: DEGN Film & Servus TV
Dokumentation | 18 min | HD | 2018 | ITA
NAILED IT . Senat Crosic BMX
Regie: Emanuel Förster | Kamera: Carmen Treichl ua.
Produktion: Wunschkind Medienproduktion
Action Sport Clip | 2 min | HD | 2018 | AUT
GIZ: Kommunen des Maghreb
Regie: Florian Hoffmann | Kamera: Carmen Treichl
Weltrecorder | 26 min | HD | Marokko & Tunesien | 2016
RED BULL TV Spot Pilot . Hannes Arch 
Regie: Verena Soltiz | Kamera: Carmen Treichl
Red Bull Media House | Commercial | 30 sec | Alexa | 2014

A HISTORY OF:  Red Bull BC ONE Breakdance
Regie & Kamera: Carmen Treichl & Archivmaterial
Red Bull Media House | 26 min | Archivmaterial & AMIRA | 2016
PATRIK SEABASE  Tour De France 2015
Regie: Björn Miniers | Kamera Drehblock London: Carmen Treichl
Red Bull Media House | 12 min | AMIRA | 2015 | UK
SERENATA
Regie: Christin Freitag | Kamera: Carmen Treichl
Produktion: Little Kong Film
Werbespot | 5 min | Red | 2015 | GER
IKARUS . SPITZENKÖCHE IM HANGAR
Moskau – Dänemark – Belgien – Oslo
Regie: Degn Film | Kamera: Hans Schober & Carmen Treichl
Produktion: DEGN Film – Servus TV
Reportage | 50 min | HD | 2015-2016
EINFACH GUT LEBEN . Diverse Folgen
Regie: Robert Altenburger | Kamera: Carmen Treichl ua.
Produktion: DEGN Film – Servus TV
Reportage | je 10 min | HD | 2014-2016
FOCUS . HANNES ARCH
Regie: Blayk Hoffmann | Kamera Österreich: Carmen Treichl
Produktion: Milkmoney Production
SportPortrait| 26 min | HD | 2014 | AUS – AUT
Red Bull BC ONE World Final 2014 PARIS
Regie: Verena Soltiz | Kamera: Mario Minnichmayr & Carmen Treichl
Produktion: DEGN Film & Red Bull Media House
Event Highlight | 52 min | F55 | 2014 | FRA
New York Filmfestival – Award for Best Edit
Red Bull BC ONE Regional Finals World Tour 2014
Zagreb  | Algerien | Taiwan | Finnland 
Regie: Björn Miniers | Kamera: Carmen Treichl & Lydia Richter
Produktion: Red Bull Media House | DEGN FILM
Behind the Scenes – Sport Dok | HD | 2014  
Red Bull COLLEXION Trailer Berlin 2014
Regie: Björn Miniers | Kamera: Carmen Treichl
Produktion: Red Bull Media House
Image | 3 min | ALEXA | 2014 |  GER
RED BULL SHRED Girls Only 2014
Regie: Carmen Treichl | Kamera: Carmen Treichl
Produktion: Red Bull Media House
Image | 3 min | HD | 2014 |  AUT
Red Bull COLLEXION Trailer Zürich 2013
Regie: Björn Miniers | Kamera: Carmen Treichl
Produktion: Red Bull Media House
Image | 3 min | ALEXA | 2013 |  CH
RED BULL SKYDIVE TEAM . Argentinien
Regie & Kamera: Carmen Treichl
SportDok | 10 min | HD | 2013 | ARG
SWOOP STYLE . Red Bull Skydive Team 2012
Regie: Björn Miniers | Kamera: Carmen Treichl & Hans Schober
Produktion: Red Bull Media House & DEGN FILM
Beauty Sport | 5 min | ALEXA | 2011 |  AUT

ZEITMICROSCOPE . RED BULL BC ONE FINALS RIO 2012
Regie: Björn Miniers | Kamera: Carmen Treichl & Tom Zwerina
Produktion: Red Bull Media House
Beauty Sport | 12 min | ALEXA | 2012 |  BRA
ZEITMICROSCOPE . EXTREME SAILING RIO 2012
Regie: Björn Miniers | Kamera: Carmen Treichl
Produktion: Red Bull Media House
Beauty Sport | 3 min | ALEXA | 2012 |  BRA
ZEITMICROSCOPE . RED BULL STREET SOCCER LECCE 2011
Regie: Björn Miniers | Kamera: Hans Schober & Carmen Treichl
Produktion: Red Bull Media House & DEGN FILM
Beauty Sport | 12 min | ALEXA & Phantom | 2011 |  ITA
ZEITMICROSCOPE . WING SUITE FLY BYE  Schafsberg 2011
Regie: Björn Miniers | Kamera: Carmen Treichl & Hans Schober
Produktion: Red Bull Media House & DEGN FILM
Beauty Sport | 10 min | ALEXA & Phanom | 2011 |  AUT
BASEJUMP – MARCO WALTENSPIEL LAUTERBRUNNEN
Regie & Kamera: Carmen Treichl
SportDok | 10 min | HD | 2011 | SUI
ATTERSEE KLASSIK
Regie: Carl Plötzeneder | Kamera: Michael Riegler & Carmen Treichl
Produktion: Bernhard Fleischer Moving Images GmbH
3x 48 min | HD | 2009 | AUT
2 SECONDS
Regie & Kamera: Carmen Treichl
Doku | 13 min | HD | 2009-10 | Norwegen
GETEILTES GLÜCK
Regie: Claudia Rohrmooser | Kamera: Carmen Treichl
Doku | 30 min | HD | 2008 | AUT

THE OTHERS
Regie: Helmut Vorraber | Kamera: M. Längauer & Carmen Treichl
Atomic Snowboard Movie | 20 min | HD | 2008
Sundance Film Festival 2009 – Sportmovies
FILMOGRAPHIE  .  Kurzfilme
OTTO WILL STERBEN (unfinished)
Regie: Giorgi Korkashvili | Kamera: Carmen Treichl
Spielfilm | 30 min | ALEXA | dffb & RBB | 2013 | GER
SCHNITT
Regie: Jasco Viehfuess | Kamera: Carmen Treichl
Produktion: Tara Biere | dffb
Kurzflm | 5 min | 35 mm | 2012 | ARTE & dffb | GER
Achtung Berlin Festival Kurzfilmwettbewerb
LARVE
Regie: Robert Pawliczek
Kamera: Carmen Treichl & Alexander Dirninger
Experimentalflm | 12 min | 16 mm | 2012 | AUT
Premiere im Topkino Wien – Live Soundcollage
Crossing Europe Festival Linz
THE LOST ONES
Regie: Janin Halisch | Kamera: Carmen Treichl
Spielflm | 12 min | 35 mm | 2012 | dffb | GER
Filmfest Dresden 2014
MIKESCH&LILLI
Regie: Janin Halisch | Kamera: Carmen Treichl
Kurzflm | 12 min | HD | 2011 | dffb
CHRISTINE
Regie: Santiago Gil | Kamera: Carmen Treichl
Kurzfilm | 7 min | HD | 2011 | dffb
DÄMMERUNG
Regie: France Orsenne | Kamera: Carmen Treichl
Kurzfilm | 6 min | S16mm | 2011 | dffb
STILLSTAND
Regie: Sara Fazilat | Kamera: Carmen Treichl
Kurzfilm | 7 min | HD | 2011 | GER
RÜCKSICHTSLOS BEGINNT DER TAG
Regie: Carmen Treichl | Kamera: Friedericke Steinbeck
Kurzflm | 7 min | 16mm | 2010 | dffb
MORGEN IST ANDERS
Regie: Janin Halisch | Kamera: Carmen Treichl
Kurzflm | 5 min | 16mm | 2010 | dffb
AUSGESCHLOSSEN
Regie: Tanja Egen | Kamera: Carmen Treichl
Kurzflm | 17 min | HD | 2010 | Deutschland
SCHNAPSIDEE
Regie: Alexander Herrman, Xaver Daller,
Jakob Barth, Sebastian Prittwitz
Kamera: Carmen Treichl, Daniel Hollerweger
Spielfilm | 30 min | HDV | 2008
Bester Spielfilm | Tag des Salzburger Films
FILMOGRAPHIE . Kurz- und Mittellange Dokumentarfilm
"GRAND MERE" (AT) (in Produktion)
Regie: France Orsenne  | Kamera: Carmen Treichl
Doku  | 30 min  | HD | 2014 | FRA
FRENCH SUNSET
Regie & Kamera: Carmen Treichl
SportDok | 3 min | HD | 2012 | FRA
EINHEIMISCH
Regie: Carmen Treichl  | Kamera: Carmen Treichl
Doku | 22 min | HD | 2009-10 | AUT
Grammophon Filmfest Tirol
NACHBAR WALTER
Regie: France Orsenne | Kamera: Carmen Treichl
Doku | 32 min | HD | 2009-10  | GER
UNEXPECTED
Regie & Kamera: Carmen Treichl
Doku | 3 min | HDV | 2008 | GER
DAZWISCHEN
Regie & Kamera: Carmen Treichl
Doku | 5 min | HDV | 2008  | AUT
HARTES BROT
Regie: Carmen Treichl | Kamera: Carmen Treichl
Doku | 40 min | HDV | 2007 | GER
KOFFERMÄDCHEN
Regie: Lennart Brede | Kamera: Carmen Treichl
Tropping Knowledge | 2 min | Mini DV | 2007
SUICiDE WALL
Regie & Kamera: Carmen Treichl
Tropping Knowledge | 6:30 min | Mini DV | 2007
TROUBLE – TEATIME IN HEILIGENDAMM
Regie: Ralf Schmerberg | Kamera: ua. Carmen Treichl
Doku | 90 min | MiniDV, HDV | 2007
Berlinale Cinema for Peace Award 2008 for
most valuable Documentary of the Year
ALICE IM CAVE
Regie & Kamera: Carmen Treichl
Experimentelles Gestalten | 3 min | HD | 2007
WITHOUT WATER
Regie & Kamera: Carmen Treichl & Tom Beyr
Sozial Spot | 2 min | HD | 2007
LONG WAY DOWN
Regie & Kamera: Carmen Treichl
Tropping Knowledge G8 | 3 min | HD | 2007
AUSGEMUSTERT
Regie & Kamera: Carmen Treichl
Tropping Knowledge G8 | 3 min | Mini DV | 2007
THE HOLE
Regie & Kamera: Carmen Treichl
Tropping Knowledge G8 | 3 min  | Mini DV | 2007
POINT OF VIEW
Regie & Kamera: Carmen Treichl
Tropping Knowledge G8 | 3 min | Mini DV | 2007
FILMOGRAPHIE . Musikvideos
NERVÖUS – Nichtich
Regie & Kamera: Carmen Treichl (Giorgi Korkashvili)
Musikvideo | 2:30 min | HD | 2016 | ISRAEL
NERVÖUS – Wolverin
Regie & Kamera: Carmen Treichl (Giorgi Korkashvili)
Musikvideo | 4:30 min | Red | 2014 | GER
NERVÖUS – Phylosymphonie
Regie & Kamera: Carmen Treichl
Musikvideo | 5 min | HD | 2014
ANT CAR
Kamera: Carmen Treichl
Musikvideo | 5 min | HD | 2014
Wiesenrock 2014 – Festivalmitschnitt
Regie & Kamera: Carmen Treichl & Daniel Kolb
Musikvideo | 3 min | HD | 2014 | AUT
Wiesenrock 2013 – Festivalmitschnitt
Regie & Kamera: Carmen Treichl
Musikvideo | 3 min | HD | 2013 | AUT
Kobito&Sookee – AUGEN ZU
Regie: Alexander Manasse | Kamera: Carmen Treichl
Musikvideo | 5 min | HD | 2010 | GER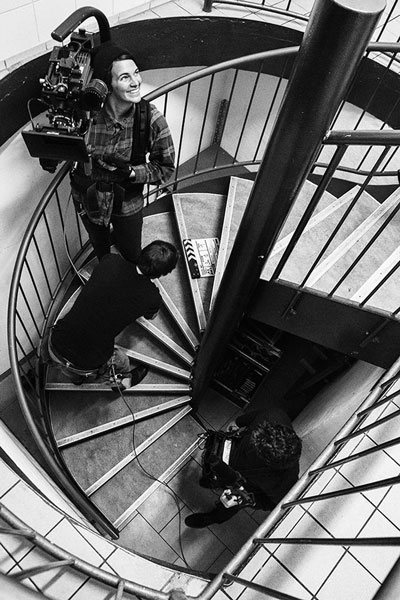 Foto by Dario Spoto